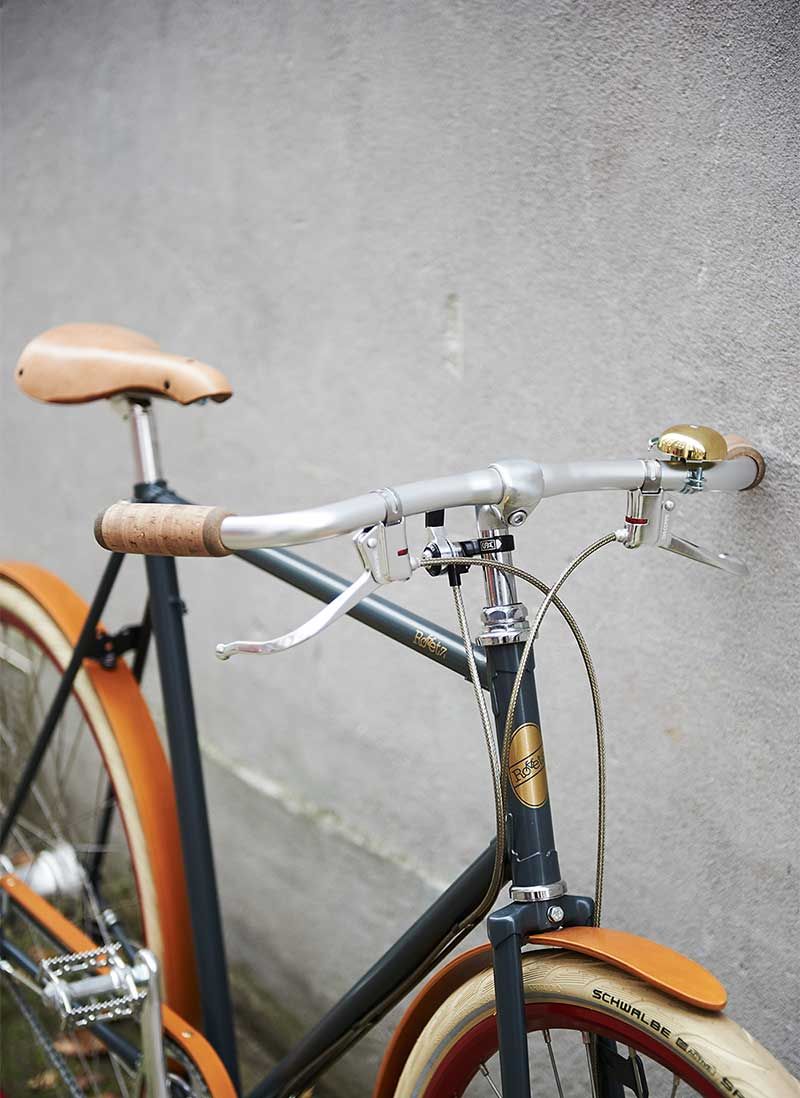 DESIGN and durability go hand in hand
For a bike the design is just as important as good driving capacities. At least, that is what we think. Your bike is your daily companion, so it is pleasant that it looks good. In our design, we work from our own strength and listen carefully to our customers and response on the street. We keep the authentic appearance of the reused frames and pick our own colors and fine parts carefully.
When it comes to the appearance of our bikes, we are not easily satisfied. We set high standards for the parts and materials we use. The quality and looks are definitely important but we also value durability and the origin of our raw materials. When there are no parts that meet our standards, we design them ourselves, like our wooden fenders and cork grips. The result is a uniquely designed bike, that can be seen.
OV-Fiets Recycle, made by Roetz-Bikes
In samenwerking met de NS presenteren we met trots de OV-Fiets Recycle, made by Roetz-Bikes. OV-fietsen zijn na vier jaar niet meer geschikt voor verhuur aan NS-klanten. Door een samenwerkingsproef met Roetz komt daar nu verandering in.
Zo veel mogelijk onderdelen van oude OV-fietsen worden in onze sociale werkplaats hersteld en dienen als basis voor nieuwe exemplaren die zo een tweede leven tegemoet gaan. Voor de OV-Fiets Recycle kan bijna 70% van de massa van de fiets worden hergebruikt en worden er tegelijkertijd enkele verbeteringen aangebracht. Zo is de fiets klaar voor nog eens vier jaar verhuur.
De proef omvat honderd OV-fietsen, waarvan de eerste vijftig al te vinden zijn op station Amersfoort en station Utrecht in de fietsenstalling aan het Jaarbeursplein. Je herkent de fiets door het groene OV-Fiets Recycle-kenmerk op het frame onder het zadel.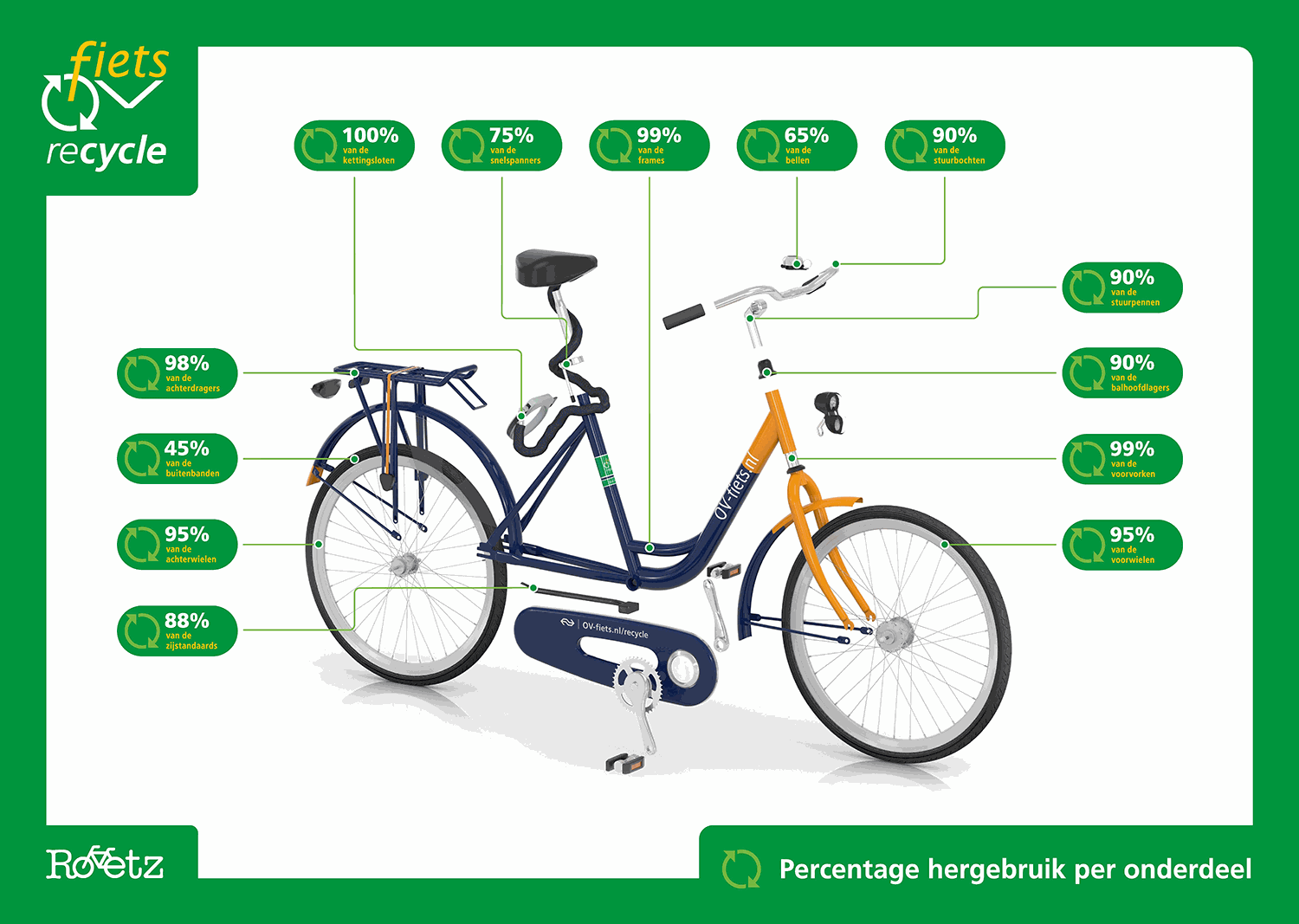 Inloggen voor Pers

Click Here
A great way to catch your reader's attention is to tell a story. Everything you consider writing can be told as a story.
Feature Title
Panels are a great tool to compare offers or to emphasize on key features. To compare products, use the inside columns.
Heeft u nog geen Pers inloggegevens? Mail dan met ons marketing-team om toegang te krijgen.
Insurance, Just to be sure
Insure your bike in a few clicks against theft or damage. See our
insurance page
for more information.
Excellent Warranty
5 year warranty on your steel frame, in case something goes wrong. If there is a technical problem with your bike, this might fall under warranty. See our warranty page for more information.
Home or dealer delivery
We can deliver the bike to one of our dealers or to your home. If you choose to get the bike delivered at one of our dealers, they will contact you when the bike is ready.
Colors
Ruby Red Matt Black Cream White Matt Anthracite
Delivery Costs
| Country | Bike | Accessory -1kg | -5kg |
| --- | --- | --- | --- |
| NL | €0,- | €7,95 | €7,95 |
| DE/FR/UK/AT/DK/PL/PT/ES | €50,- | €12,50 | €20,- |
| IT/SE/NO/HR/CZ/FI/EL/IE/SI/CH | €100,- | €12,50 | €20,- |
Custom built by hand
Since every bike is unique and custom build by hand, delivery might take a few days or weeks.  The delivery time is stated when you configure your bike. Most of our bikes can be delivered within 2 weeks time, when it is busy it can take 1 or 2 weeks more.
Recommended framesizes (height in cm)
| Framesize | Height Ladies | Height Men |
| --- | --- | --- |
| Small | 158-165 | 170-179 |
| Regular | 166-180 | 180-189 |
Extra Small and Extra Large framesizes are available by special request: Please contact us at
info@roetz-bikes.nl