Remanufacturing: OV-Fiets
Remanufacturing. It is a complicated word, for something that is so logical to us. Roetz-Bikes believes that we should take care in the way we handle raw materials. We do this by choosing an alternative way of production, called remanufacturing, or reproduction.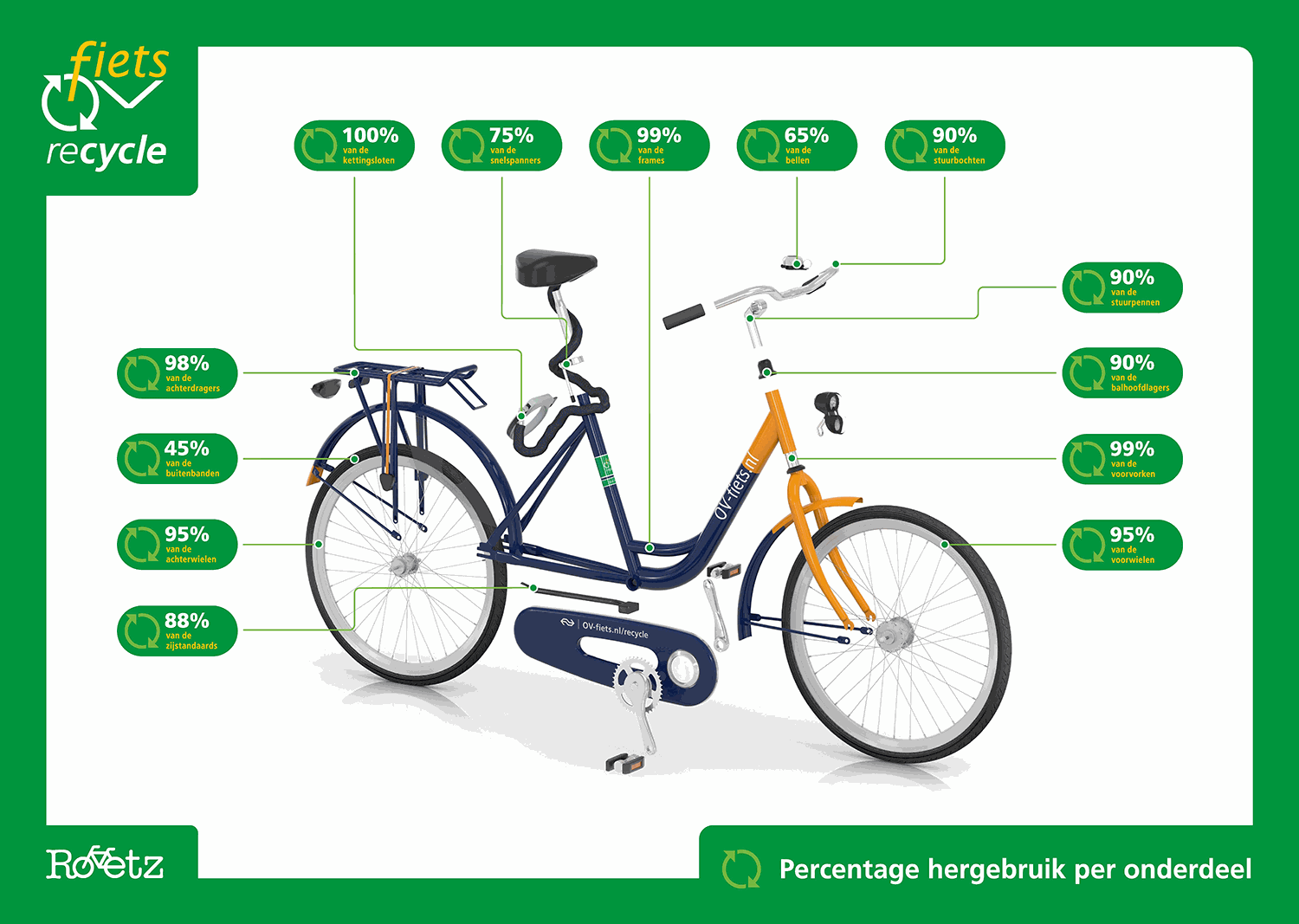 What is remanufacturing?
In short it comes down to this: products at the end of their life cycle (in our case, bikes) are upgraded again to become new. By creating new bikes (not secondhand!) out of used bikes, raw materials are not needed for making new bikes. As logical as this sounds, this circular way of producing is not very common yet in our modern day economy. That is where Roetz-Bikes makes the difference. Not just with our collection of bikes for individuals for which we re-use frames from discarded bikes, we also make a difference in bigger series of bikes. These bikes usually are technically in a better shape, but still need to be rejected. These are usually the bike fleets from bigger companies or rental companies. The best example we can give is the OV-Fiets (public transportation bike) from the Dutch railway company, the Nederlandse Spoorwegen (NS).
OV-Fiets
For the NS we yearly reproduce the biggest part of the discarded bikes and make them into new bikes: the OV-Fiets/Recycle. These public transportation bikes will go back into the fleet to be used again by customers of the NS. To realize this, Roetz-Bikes has set up a process that consists of: screening, disassembling, cleaning, different adaptations and assembling. Thanks to this process, we can create a new bike in a short time, consisting of almost 70% of re-used materials. At the same time we achieve improvements in our process in areas as consumer experience, safety and trustworthiness of the bike.
More information?
Thanks to remanufacturing the NS has improved bikes that can last at least another life cycle. Furthermore the production method based on reusing materials, done by people with a distance to the labor market makes for a sustainable image! Do you see more possibilities to reproduce bike fleets instead of replacing them? Let us know via our contact form or call +31(0)20 – 820 08 04. 
Inloggen voor Pers

Click Here
A great way to catch your reader's attention is to tell a story. Everything you consider writing can be told as a story.
Feature Title
Panels are a great tool to compare offers or to emphasize on key features. To compare products, use the inside columns.
Heeft u nog geen Pers inloggegevens? Mail dan met ons marketing-team om toegang te krijgen.
Insurance, Just to be sure
Insure your bike in a few clicks against theft or damage. See our
insurance page
for more information.
Excellent Warranty
5 year warranty on your steel frame, in case something goes wrong. If there is a technical problem with your bike, this might fall under warranty. See our warranty page for more information.
Home or dealer delivery
We can deliver the bike to one of our dealers or to your home. If you choose to get the bike delivered at one of our dealers, they will contact you when the bike is ready.
Colors
Ruby Red Matt Black Cream White Matt Anthracite
Delivery Costs
| Country | Bike | Accessory -1kg | -5kg |
| --- | --- | --- | --- |
| NL | €0,- | €7,95 | €7,95 |
| DE/FR/UK/AT/DK/PL/PT/ES | €50,- | €12,50 | €20,- |
| IT/SE/NO/HR/CZ/FI/EL/IE/SI/CH | €100,- | €12,50 | €20,- |
Custom built by hand
Since every bike is unique and custom build by hand, delivery might take a few days or weeks.  The delivery time is stated when you configure your bike. Most of our bikes can be delivered within 2 weeks time, when it is busy it can take 1 or 2 weeks more.
Recommended framesizes (height in cm)
| Framesize | Height Ladies | Height Men |
| --- | --- | --- |
| Small | 158-165 | 170-179 |
| Regular | 166-180 | 180-189 |
Extra Small and Extra Large framesizes are available by special request: Please contact us at
info@roetz-bikes.nl