Roetz as a social inspiration
The mission of the Ministry of Social Affairs and Employment is to foster a socially and economically vigorous position for the Netherlands in Europe, with work and income security for everyone. The Minister and State Secretary are responsible for labour market policy, including migration and the free movement of workers, benefits and re-integration, income policy, work-life balance, and policy on working conditions and inspection.
The Ministry visited us and interviewed two Roetz employees: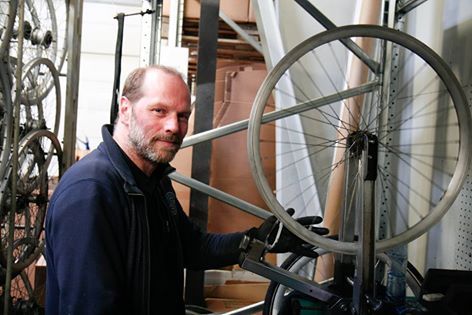 Mottie: I had to start over
Mottie is the person younger bike makers turn to with their questions. His specialty: assessing bicycle wheels for a second life. "I have worked as technical expert for 17 years, also as a manager. Working weeks of 75 hours - no problem for me. I tought. Then the burnouts came and I quit. The diagnosis: ADHD (attention-deficit disorder with hyperactivity) and Asperger. A shock to me. I had to start: learning a new craft and working 20 hours a week tops. I started as bike mechanic at Roetz. The Roetz Fair Factory is a great place for people to try out this trade while keeping their social benefits. I help mentoring new makers with the experience I already have. I've always worked with apprentices, so that works fine."
peter: beautiful bikes and beautiful people
"One million bicycles are thrown away every year in the Netherlands. We need to change that," says Peter from Roetz-Bikes in Amsterdam. Roetz collects discarded frames and turn these into new bikes. "You wouldn't notice," says Peter. He emphasizes that the Roetz concept not only makes beautiful bikes, but also beautiful people. "Everyone is welcome to work at our Fair Factory in Amsterdam to become a bicycle mechanic. While keeping the social benefits, our makers can try out this new profession for a while. We now have 10 makers signed up for an eduction to become certified bike technician."