roetz MOST INNOVATIVE AND INSPIRING SUSTAINABLE ENTREPRENEUR

Winner of TRIODOS HART-HOOFDPRIJS 2014
The last couple of days were intense and exciting for us. 
Triodos Bank nominated us for the Hart-Hoofdprijs 2014 in March. The public was then asked to vote for the most innovative and inspiring sustainable entrepreneur. 
More than 22.500 votes were counted. Today, we received this prestigious award combined with a cheque of 10.000 Euros at the award ceremony. 
We're so proud and thank everyone who voted for us! 
Unfortunately, we have to live up to our promise now: jumping in the Amsterdam canals to retrieve sunken bikes... Did we really say we would do this?!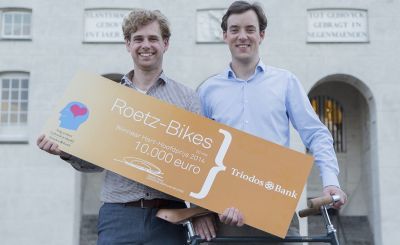 Insurance, Just to be sure
Insure your bike in a few clicks against theft or damage. See our
insurance page
for more information.
Our Bike Models Explained
| Model | Road | Vigour |
| --- | --- | --- |
| Riding Position | Upright, comfortable riding position | Sporty, forward leaning position |
| Gear Ratio | Light cycling resistance at any speed | Premium crankset with slightly higher resistance (ratio), suitable for higher speed |
| Tyres | Creme (until May)* | Creme |
| Saddle | Comfortable | Sporty |
| Stem | Practical adjustable stem | Premium top-quality race stem |
*Due to delivery issues, road bicycles will come with our cream-colored tires instead of black tires. This applies to orders until June 1st at least. More info here
Recommended framesizes (height in cm)
| Framesize | Height Ladies | Height Men |
| --- | --- | --- |
| Medium | 158-169 | 170-179 |
| Large | 170-179 | 180-189 |
Please note: if your height doesn't match, smaller and extra large framesizes are available by special request: Please contact us at
info@roetz-bikes.nl
and we will help you further.