YOUR OLD BIKE IS WORTH SOME MONEY
how does it work?
Roetz-Bikes makes unique and urban design bikes with a vintage look by giving discarded bikes from well-known Dutch bike brands a second life. So we can really use your old frame!
Use the discountcode 10%OLD=NEW17 when placing your order and receive directly a 10% discount. Choose the option 'Pick up at Roetz Fair Factory'. If your new bike is ready, bring your old bicycle with you to our Fair Factory and off you go!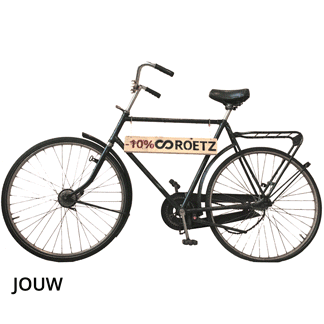 why a roetz bike?
Besides the fact that a ride with a Roetz bike is very smooth, we can tell you numerous other reasons why you should buy a Roetz bike.
Customizable to your wishes, such as wooden fenders & cork grips
Unique and hand-made in Amsterdam in our own Fair Factory
Our circular approach contributes to a more sustainable planet
Re-using material is a smart cost-saver compared to purchasing new bikes
RIDE THE CHANGE
There is more than meets the eye. A Roetz-Bike comes with a sustainable story. Read about it here.
I have an old bike just standing here doing nothing
We like the sound of that! Take a look at our collection, you might see something that you like. Or come by for a visit at our Fair Factory to take a spin. You can always bring your old bicycle to us, if you want to give it a second life.