Roetz met Bo-Bike kinderzitje online te bestellen
ALS MOEDER BEN JE VAAK VOORAL OP ZOEK NAAR COMFORT. HET INRICHTEN VAN JE LEVEN OP EEN GEMAKKELIJKE MANIER, WAARBIJ JOUW KIDS NATUURLIJK CENTRAAL STAAN. EN DAN IS EEN FIJNE, STEVIGE MAMAFIETS WAAR JE JE KINDEREN PRAKTISCH MEE KUNT NEMEN NATUURLIJK BELANGRIJK. MAAR HET LIEFST WEL EENTJE DIE ER OOK NOG EEN BEETJE GOED UITZIET!
De fietsen van Roetz hebben een mooi design, en zijn vanaf nu ook perfect uit te rusten met de kinderzitjes van Bo-Bike. De ideale mamafiets dus. Een Roetz-fiets kan je helemaal customizen zoals jij dat wilt. Wil je houten spatborden, of juist aluminium? Wil je achter een kinderzitje zodat je voor nog een mandje kunt plaatsen? Of heb je twee kleine koters en is voor en achter een kinderzitje essentieel? Je bepaalt het zelf.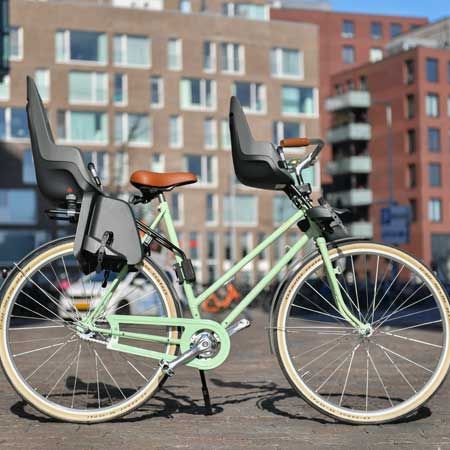 Bo-bike kinderzitjes op de Roetz mamafiets
De kinderzitjes van het bekende merk Bo-Bike zijn Nederlands design. Modern & slank met een dubbelwandige ontwerp. Door het kleurvaste materiaal tevens een heel duurzaam en veilig kinderzitje, wat perfect bij een Roetz mamafiets past. De schouderriemen zijn zacht en comfortabel. En de voetsteuntjes verstel je eenvoudig én zonder gereedschap. De Bobike ONE Mini is een kinderzitje voor montage voorop de fiets en geschikt voor kinderen met een leeftijd vanaf ongeveer 9 maanden tot 3 jaar of tot een lichaamsgewicht van 15 kg. Bobike kinderzitjes voor achterop de fiets zijn geschikt voor kindjes tot ongeveer 6 jaar of tot een gewicht van 22 kilogram. Check ze in onze shop.